Parish Council of Catholic Women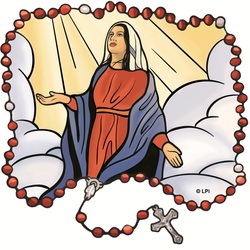 The Rosary Society is the first society established at St. Bronislava Parish. Now known as the Parish Council of Catholic Women (PCCW), this group of Parish women support and provide for the needs of the parish through prayer, fellowship and fundraisers.
Their objective is to unite women in purpose, direction and action in religious, educational, social and economic fields; to stimulate greater efficiency and usefulness in meeting the needs of the times; to develop leadership potential and motivate individuals to act upon current isses in Church and Society.
Most parishioners are aware of the funeral luncheons this society prepares. They also assist with many social events held for the parish and Diocese. Beyond this, they donate to many charitable causes, including the Madonna Plan, Project Milk, Operation Boostrap, the missions of Peru, etc. They also donate funds to pruchase items for the parish kitchen, church and rectory.
The PCCW is affiliated with the Stevens Point Deanery Council of Catholic Women, the La Crosse Council of Catholic Women and the National Council of Catholic Women.
The PCCW meetings are held on the third Thursday of the months of January, March, May, July, September and November. The Rosary is recited at 6:30 pm with the PCCW meeting afterwards.
There are approximately 240 PCCW members to date. These members are assigned to a group when they join, There are 12 groups in the PCCW, each signifying a mystery of the Rosary (Joyful, Glorious, Luminous or Sorrowful).
Membership Information:
Any practicing Catholic woman, 18 years of age or older, and who is a current member of St. Bronislava Parish, is eligible for membership. New members may join at any time, but shall be received into the PCCW officially at the September meeting. The annual dues for each member shall be $5.00 payable to the Treasurer. Dues shall be paid prior to April 1st of each year. An envelope is provided for the dues in the January church envelopes mailed out to parishioners.
Responsibilities of Members:
Pray the Rosary as a group every Sunday before the 8:00 am Mass.
Pray the Rosary or at least a decade each day.
Respond to calls for help or provide cakes for funerals or meals.
Attend wake of PCCW members.
Attend Council meetings held the third Thursday in the months of January, March, May, July, September and November.
Participate in Council activities throughout the year.
See a recent bulletin
flyer
regarding the PCCW.
---