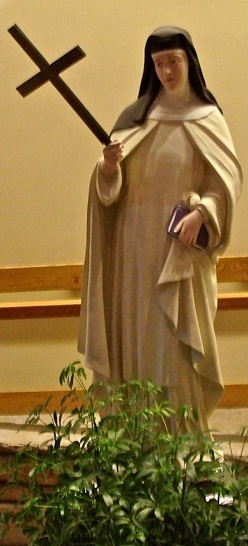 Blessed Bronislava

Blessed Bronislava was born in about the year 1203. When she was 16 years old, she entered the convent of the Norbertine Sisters at Zwierzyniec, just outside Krakow, a convent built by her great-grandfather, Jaska of Miechowo.

The Norbertine rule was rigorous. They lived in cells that had dirt floors and no stoves; they suffered intensely from cold and frost. They followed a vow of extreme poverty and had no contact with the outside world. After 15 years of solitary, austere religious life, Bronislava accepted the burden of becoming a Superior. She carried that burden during times of unrest and civil wars, often in exile away from the convent. Over the centuries, the people of Krakow have remembered the goodness and compassion of Bronislava. Bronislava's contemporaries considered her a very holy woman, giving her the nickname "the angel of goodness." She died on August 29, 1259.

People soon began to pilgrimage to her grave. Bronislava was named among the Blessed of the Church, the last step before Sainthood. Pope Gregory XVI designated the 30th of August as her feast day for the Diocese of Krakow. She is considered the patroness of young people, a happy death and of the prevention of disease. There were two Parishes in the United States that claimed Bronislava as their patron. The other, located in Illinois, has since been consolidated with another parish.

Prayer for the Canonization of Blessed Bronislava

O God, who hast chosen Blessed Bronislava, so that by her wondrous virtues our hearts may be drawn closer to Thee, deign to glorify Thy faithful servant as Thou didst during the past centuries by granting requests, favors and miracles through her intercession. Grant also, we beseech Thee, that by new miracles Thy chosen spouse may soon be elevated to the honors of the altar for the glory of Thy Holy Name. Amen.





---
Photo used from Basil Kiedrowski