Holy Name Society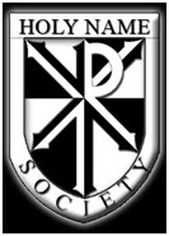 St. Bronislava's Holy Name Society is made up of parish men who want to make their Church and school a better place. They make themselves available to the priests, teachers and staff by volunteering at special events and provide necessary items for the parish.
The Holy Name Society helps fund numerous maintenance projects and volunteer their time for many children and youth events taking place at the parish.
They are able to fund these things through the generous support of those attending the pancake breakfasts that are held from October through May and the Annual Dinner/Dance Night.
They help fund St. Bron's Boy Scout Troop. This troop helps to earn this by assisting and servicing tables during the Sunday morning breakfasts.
​
2017-2018 Pancake Breakfast Schedule
The Society also prepares breakfast for "Breakfast with the Easter Bunny", Breakfast in Bethlehem" and a breakfast send-off for the Steubenvlle Youth Conference.
How to join St. Bronislava Holy Name Society: If you are a male over the age of 18 and a practicing Catholic,
contact the Holy Name president or any society member.
Check the bulletin for current phone numbers. Dues are $5.00 per year.
---